Editor's Note: This article was commissioned by the Tennessee Department of Economic and Community Development, which approved and paid for this posting.
Tennessee's reputation as a collaborative pro-business state, with vibrant workforce and transportation/IT infrastructure assets that support long-term business growth, continues to land big companies — especially those with a high number of tech-related needs.

Major announcements in 2018 included:
Amazon — 5,000-job operations hub, Nashville

Ernst & Young — 600-job technology center, Nashville

Asurion — 400 tech jobs, Nashville expansion

Indigo — 700-job expansion to Memphis operations

Mimeo — 300-job headquarter relocation from New York City to Memphis


"Tennessee is a growing home for major international businesses, particularly in the tech sector," says Bob Rolfe, commissioner of the Tennessee Department of Economic and Community Development. "Since 2013, the number of tech jobs in the Nashville region has increased by almost 30 percent, far outpacing the national average."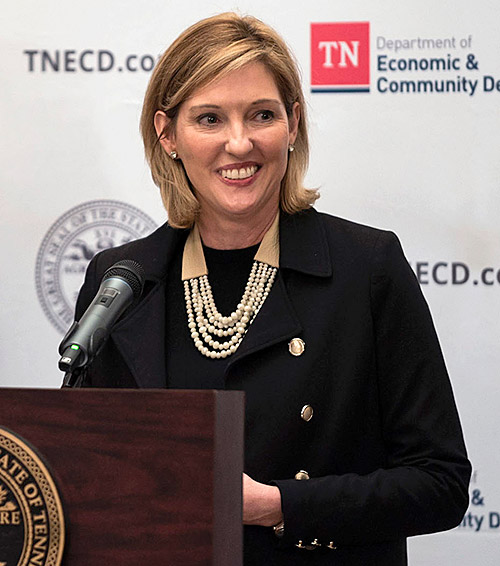 In November 2018, Amazon's Holly Sullivan announced the e-commerce giant's plans for a 5,000-job operations office hub in downtown Nashville.

IT and Talent Bring Amazon to Nashville

Even though Nashville, as one of the 20 finalists, did not win Amazon's HQ2 search, the city's very competitive proposal definitely caught the eye of the retail giant. In November 2018, Amazon announced plans to build an operations center in Nashville, which will house the tech and management functions for Amazon's fulfillment, supply chain, and logistics divisions, creating more than 5,000 jobs, many of them tech-related.
Amazon's new office project is the largest single jobs announcement in Tennessee history, creating more jobs than even the largest automotive operations in recent decades. The Tennessee Department of Economic and Community Development expects the Amazon project to generate more than 8,000 indirect and induced jobs.
"Given the size of city and the existing talent pipeline, we didn't feel that Nashville was the best fit for HQ2," says Holly Sullivan, Amazon's head of Economic Development. However, she adds, "With more than 18 colleges and universities in the Middle Tennessee market, the infrastructure investments made by the city and state, the intersection of the creative class and the emerging tech hub that Nashville is becoming, and the fact that more than 100 people a day move to Nashville, we thought there was a real opportunity to do something."
Amazon's new operations center will be the newest addition to Nashville's long, rich history of logistics and distribution. "We always strive to innovate on behalf of our customers," says Sullivan. "With all its attractive assets, Nashville is the perfect fit for our center of excellence for operations."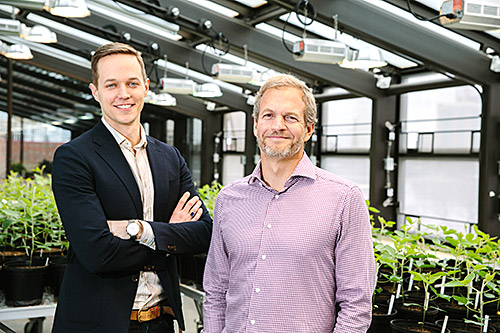 CEO David Perry, right, leads Indigo, an agtech startup that is building out a significant commercial operations headquarters in Memphis.

Collaborative Business Climate

Several companies are planning to set up new operations in the Memphis area — thanks in part to its pro-business policies and eagerness to support local businesses. The city has worked hard over the years to build an innovative, investment-friendly business culture that attracts companies like Mimeo, an online-managed content distribution and printing company, which plans to establish its U.S. headquarters in Memphis, investing $16 million and creating 300 jobs.
Indigo, an agricultural technology company, announced in December 2018 it would establish its North American headquarters in Memphis, investing nearly $6.6 million and creating over 700 jobs. One of the fastest-growing start-ups in the country. Indigo's mission is to help farmers sustainably feed the planet. The company uses beneficial plant microbes and digital technologies to promote crop health and productivity, while focusing on improving grower profitability, environmental sustainability, and consumer health. Indigo's engineers use data science and machine learning to better understand the ecosystem around farming, resulting in the development of software that improves farm profitability and conserves natural resources.
"We decided to establish and grow Indigo's headquarters for North American commercial operations in Memphis because of the proximity to our customers and research partners, the pro-business climate, access to world-class talent, and the collaborative relationship between state and city government leaders," says Indigo President and CEO David Perry. "Memphis is a hub for North American agriculture, and we are excited to grow in such an innovative and forward-focused city."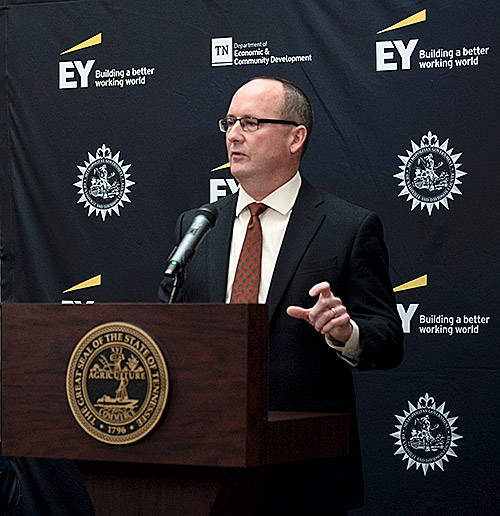 In November 2018, EY's Dan Thibault announced the professional services firm will bring a tech office to Nashville's Music Row.


Beckoning Tech Talent Pool

In November 2018, the global professional services firm Ernst & Young LLP (EY) announced it would invest more than $20 million to establish a facility in Nashville for delivering tax-managed services for clients and tax technology operations, creating more than 600 jobs over the next five years. The new Exceptional Delivery Growth Engine (EDGE) Center will include software development, design, and testing, as well as delivering technology-enabled tax-related services for its customers.
"Our clients are experiencing many changes in their businesses and how they operate their tax departments," says Dan Thibault, partner and deputy director, National Tax, for EY. "With increased technology and automation development, clients are looking for ways to serve the demands of their businesses and the regulatory environment. In response, our America's Tax Technology Group determined that it needed additional technology resources, including program managers, solution architects, programmers, and other technology resources."
EY considered many factors during its site search, including business climate, pool of available IT and business students within a 50-mile radius, demographics, airport service and the number of flights to various cities, and incentives.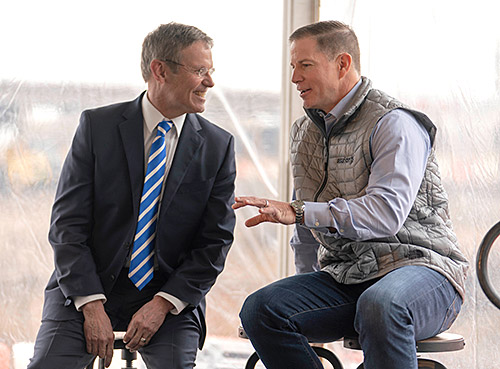 Tennessee Gov. Bill Lee, left, joined Asurion CEO Tony Detter on March 7, 2019, as the tech company broke ground on a new headquarters in Nashville.

"The Nashville business climate and the focus of state and local officials support the continued growth of IT in the area," says Thibault. "A contributing factor in the selection of Nashville was the availability of IT and business students in the region. Nashville's recognition as an emerging tech hub presents a great opportunity for EY to continue to expand its digital capabilities in the Southeast and take advantage of the budding tech talent pool."
Also taking advantage of Nashville's tech talent pool is Asurion, which provides technology support solutions and protection for smartphones, tablets, consumer electronics, and other devices. In February 2018, Asurion announced it would consolidate its four existing Nashville facilities into a single downtown headquarters, creating 400 additional tech jobs.
"For almost two decades Asurion has been part of Nashville's vibrant growth and is excited to continue building the city's tech hub brand," says Asurion CEO Tony Detter. "Our consolidation into a facility that will serve as the global product and technology hub for Asurion's innovation and development in the heart of Nashville further cements our commitment to tech job growth and the city."